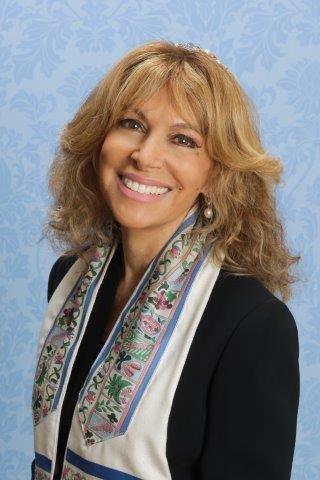 Cantor Riselle Bain is invested as a certified Cantor through Hebrew Union College Jewish Institute of Religion Debbie Friedman School of Sacred Music and the American Conference of Cantors. She is a member of the Sarasota Manatee Rabbinical Association and she serves on the Social Action and Justice Committee for the American Conference of Cantors.
Cantor Bain became the Spiritual Leader for Temple Israel in June 2015.
From 2013-2014, Cantor Bain served as the Interim Cantor for Congregation Shaarei Shalom in Boynton Beach, Florida.
From 2001-2013, Cantor Bain served as the first cantor in the history of Congregation Schaarai Zedek, Tampa Florida, established in 1894. On November 4, 2011, Congregation Schaarai Zedek honored her for ten years of service. Cantor Bain composed the music for that special celebration. Cantor Bain is also a founding member and past president of the Bay Area Cantorial Association (BACA).
Born in Los Angeles, Cantor Bain was an Honors-at-Entrance student at UCLA, majoring in Voice with a minor in Spanish. After moving to Florida, she completed her degree in Music, graduating from Stetson University, Magna Cum Laude. While at Stetson, she was awarded the honor of memberships in Pi Kappa Lambda for achievement in music, Omicron Delta Kappa for community leadership, and Mortar Board for scholastic achievement.
Prior to her studies for the Cantorate, Cantor Bain had an extensive career in the theatrical arts. Each year at Passover, she is seen as Miriam, Moses' sister as a child, in the epic film The Ten Commandments. Sacramento Civic Light Opera's production of Fiddler on the Roof featured Jan Peerce as Tevye and Riselle Bain as Hodel. An audio tape of the final performance is available in the archives at the New York Public Library of Performing Arts. She also played the title role of Eva Peron in the First National Tour of Evita. She has worked with such showbiz greats such as Judy Garland, Bert Lahr, Buster Keaton, Bob Hope, Paul Newman, and Bob Denver in motion pictures, television, and theatre.
Cantor Bain's original composition, "Tikkun Olam – A Song for Equality and Social Justice" was published in 2011 by the Union of Reform Judaism's Transcontinental Music Publishing Company in their anthology, "Tzedek Tirdof: The Social Action Songbook. Tikkun Olam" was immediately chosen as the opening spiritual anthem for a function at the Israeli Embassy in Washington D.C. honoring countries which helped victims of the Holocaust escape. It was also chosen as the final song for United Nations National Observance of the Holocaust sponsored by the Italian Consulate in Tampa, Florida 2013 and 2015.
Cantor Riselle Bain has been a visiting Scholar-in-Residence at the University of Rhode Island, The American Association of University Women, Lake Wales, Florida, Congregation Beth Israel Sun City Center, and The United Community Church, Sun City Center, and a guest presenter for The Women's International Service for Peace, Tampa. Cantor Bain continues to perform concerts nationally and within the state of Florida.
Cantor Bain was recently chosen to be honored as a composer for Jewish Music Month by Temple Beth Israel in Longboat Key, Florida. Her CD, Cantor Riselle Bain, features her original compositions for Shabbat and is available at VoiceofGladness@aol.com.